"We respect each other": Why a neighbor took down his Confederate flag | News
Title (Max 100 Characters)
"We respect each other": Why a neighbor took down his Confederate flag
CARROLLTON, Ga. -- For the last two months, the Confederate flag has dominated the news. Most stories surrounding it have been enveloped in animosity, with some calling it a symbol of heritage and others calling it a symbol of hate.
But this story comes from a viewer who recently saw it as a symbol of communication.
On Ashley Drive in Carrollton, many houses look the same. Jimmy Bolden, Jr. does not.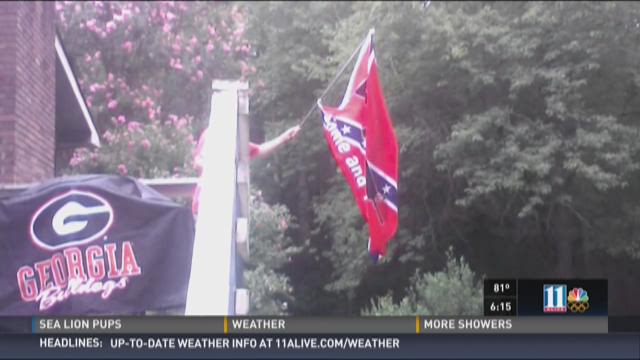 "I am the only black guy," said Bolden. "But they welcome me with open arms … and I feel right at home."
That was the case until Bolden arrived home one night to see, hanging from his neighbor's home, the Confederate flag.
"I just peek outside, and it is up," he recalls. "I felt, 'What does the flag mean to you? What is so important to put that history of hate back into my life?'"
For days, Bolden says, he judged his neighbor, his mind filled with the volume and vitriol of what seared on TV. He says he placed emotion over reflection -- until he knocked on his neighbor's door with an open ear.
"He said his intentions weren't to try to hurt me," Bolden said. "It was just to try to celebrate something that, he thought, should be celebrated."
And because Bolden felt offended, his neighbor agreed to remove the flag. He even agreed to celebrate that. Bolden took a video as his neighbor took down the flag. He then sent it to us with the caption, "It's a step in the right direction!"
"I try to ignore it, but I'm glad that I didn't ignore it," he said afterward. "We have to embrace our differences. We can't shut each other out, and we can't shut each other's history out.
"We respect each other enough to respect each other."
RELATED: Counter-protests, KKK shunned at pro-Confederate Flag rally