One year after teen's death, have things changed in Carrollton? | News
CARROLLTON, Ga. -- One year after he was killed while sleeping in his own bed, Nizzear Rodriguez continues to inspire the city of Carrollton.
"He was an amazing kid, I can't believe how many people he touched around here," said Kaheel Balson, Nizzear's father.
 Nizzear was killed on August 24, 2014, just hours after celebrating his 13th birthday.
Carrollton Police quickly arrested several suspects. A detective testified last September that 17-year-old Malik Davis went to the apartment complex intending to kill a rival drug dealer who lived next door to Nizzear's family, but he entered the wrong home.
    
Investigators believe Kenneth Wheat was also inside the boy's bedroom when he died, while Jackquline Freeman acted as the getaway driver.
It's been a difficult year for Nizzear's grandmother, Alice Stout-Osorio.
"The first day of school, it killed me," Stout-Osorio said. "The first day of school was the hardest -- because that was the day he would be going to 9th grade, to the high school. And i could just imagine him jumping up just so happy to be going to high school."
Stout-Osorio has refused to leave the home where the crime took place.
"I said I was going to move, but I decided not to because it's like I'm leaving him behind, you know," she said.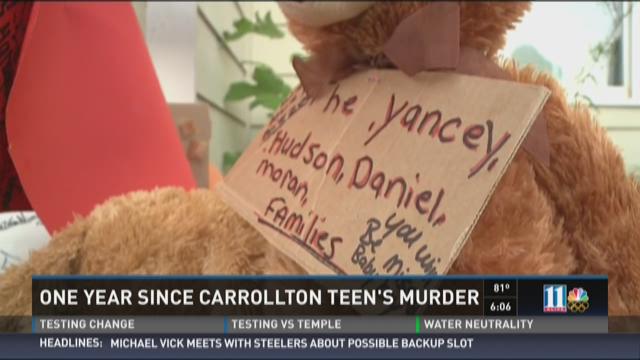 On Sunday, the Carrollton community celebrated his life with Nizzear Day. City leaders hope to turn this horrible tragedy into a positive change.
"We're not talking about just a one time thing, we're talking about long term commitments," said Carrollton City Councilman Gerald Byrd. "My question to our citizens, 'what are you going to do long term to make this town safer and to make it a better place?'"
In the last year there have been several changes. New streetlights were installed in the neighborhood where Nizzear was killed, a street was named for Nizzear, then a nearby park. Police have also made an effort to crack down on gangs in the area.
Has it worked? In the Bristol Lakes neighborhood where the crime occurred, there were the exact same number of 911 calls in August 2014 and August 2015: 33. But the reports tell a more detailed story.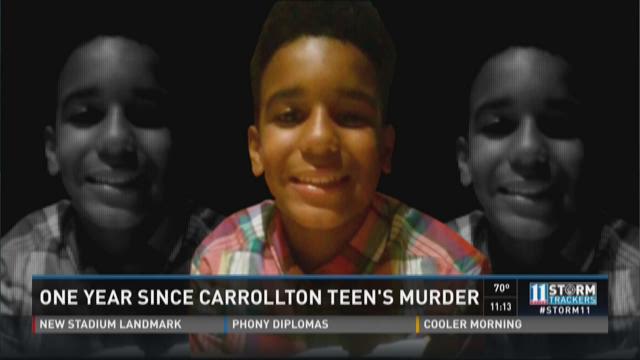 In 2014, calls included street gang terrorism, aggravated assault, rape and burglary.
This year, all of those are gone. Nearly a third of the calls were labeled family violence.
Still Nizzear's grandmother said change isn't coming fast enough to Carrollton. The city has seen two more violent murders since Nizzear's death.