Couple rushes to help sisters in Chattahoochee after engagement | News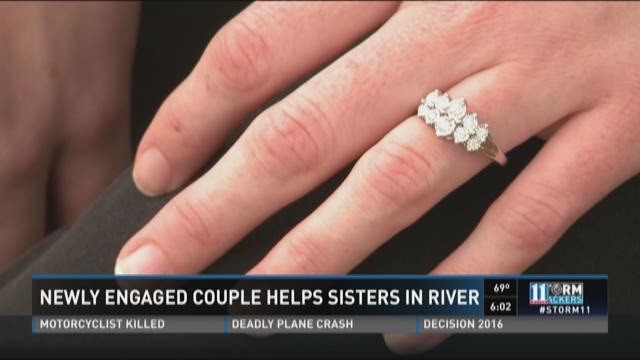 CARROLLTON, Ga. -- A Friday afternoon camping trip with family turned tragic when a 14-year-old girl died trying to save her 6-year-old sister as they spent time on the Chattahoochee River. 
Some of the first people on the scene were a young couple newly engaged at the McIntosh Reserve Park.
"I've been planning to propose to her for a long time," Ezra Woodward said.
"It was really sweet," said Joanna Norton 
Their engagement story has now become unforgettable, but not for the same reason as most couples.
It all started just after Norton said yes to Woodward.
"We were sitting there and we could hear at the bottom of the hill, I could just hear so much yelling," said Woodward.
The two went down to the river bank to see what was going on to find two sisters needing help in the river. 
The Carroll County Sheriff's Office said Alissa Calhoun tried to grab her sister's hand to save her. Witnesses found the two floating face down in the water.
"Lord Jesus, please don't let them be dead," said Woodward, of his thoughts at the time.
He went into the water to get to the younger of the two sisters and got her back to shore.
"Joanna saw the 14-year-old farther down and she waded across to get her and to get her onto a little bank in the middle of the river," he said describing his fiance's actions. "And then the park ranger talked her through how to do CPR."
Sadly, Alissa did not make it, dying later at the hospital. The 6-year-old, whose name has not been released, is in the intensive care unit at Children's Healthcare of Atlanta at Egelston.
The couple said they are thinking of both sisters and the family's loss, but they want others to know it doesn't take much to help those around you.
"You can help, even if you don't think you can, and if it was your family you would want to try," said Woodward.